Food Production Facility Cleaning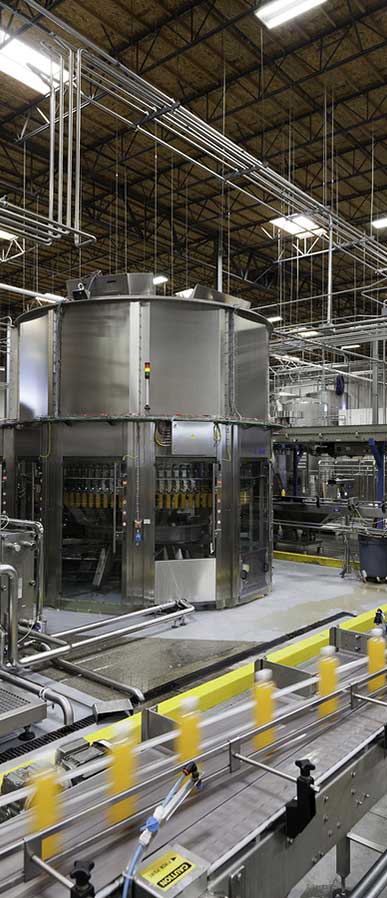 FDA and EPA approved facility cleaning
Equipment and facilities get dirty with grease, wax, proteins, seasonings, crumbs, carbon residue, glue, ink and other build-up, preventing equipment from operating at peak efficiency and shortening asset life. Traditional cleaning methods can be time-consuming, ineffective and can involve significant amounts of chemicals or water, resulting in residues, moisture build-up/mold and secondary waste.
What types of cleaning are available?
Grease Police dry ice cleaning is a non-abrasive, non-conductive, environmentally responsible cleaning method successfully used in the food and beverage processing/packaging industries. Dry ice cleaning can clean food processing equipment without the need for scrubbing, water clean-up or the use of harmful chemicals that could contaminate food. As the dry ice sublimates on impact, there is no secondary waste created, and most equipment can be cleaned in place without time-consuming disassembly. Additionally, the dry ice is food grade quality, can decontaminate surfaces of bacteria such as Salmonella, E. coli, and Listeria, help eliminate cross-contamination caused by nuts and other allergens and remove protein residues on food processing equipment.
Cobweb Removal
Tank Cleaning and Sanitizing
Electrical Equipment Cleaning
Pipes, Connectors, Walls and Floors
Non-Flammable Circuit Cleaning
Is the cleaning safe for my facility?
Dry Ice blasting is a cleaning technology that is approved by the FDA and EPA.
No Chemicals or By-products
Safe for Food Facility
Safe for Packing Facility
Non-Flammable
Non-Abrasive